People often use filters on apps like Instagram and Snapchat to spice things up, but if you need more granular controls over how your selfies look, we've got you covered.
It's the digital age and everyone's basically documenting their lives on the internet, constantly sharing photos and videos of themselves on social media. Whether it's to show off a new outfit, document a fun trip with friends, or simply share a quick moment with family, people love to capture their lives through their smartphone's eye. Sometimes, though, reality can be boring. To spice things up and add an extra layer of fun to photos, people are using face filter apps. These apps allow you to add all sorts of special effects to your face, whether you want to transform yourself into a cute animal or give yourself a complete virtual makeover. Today, we list down some of the best face filter apps you can use to enhance your selfies.
BeautyPlus Cam
 BeautyPlus also comes with a built-in object eraser (Image: BeautyPlus)BeautyPlus Cam is one of the most popular face filter apps among both iOS and Android users, allowing you to instantly take perfect selfies from the built-in camera and touch up your photos. The app is quite granular when it comes to features, letting users smoothen out their skin, whiten teeth, and even change the colour of their eyes. "HD Retouch" is particularly nifty, though, enhancing your selfie at the touch of a button. But the app isn't all about faces though – it also comes with handy background changer and object eraser tools.
B612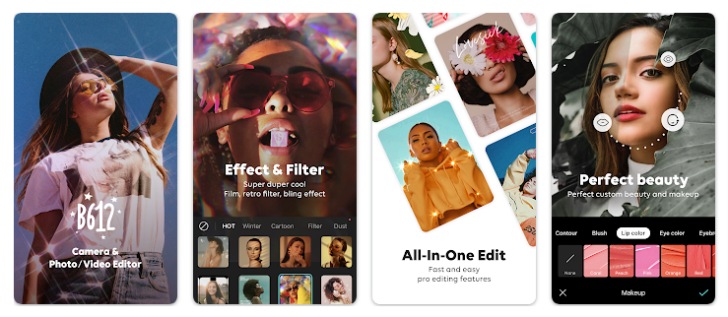 B612 will put your makeup on for you if you didn't have the time for it before you headed out (Image: B612)B612 promotes itself as an "all-in-one camera & photo/video editing app." Like BeautyPlus, it also offers a built-in camera that applies real-time filters so that you don't have to edit your photos later. One of the biggest highlights of the app is the "Smart Beauty" feature that recommends improvements to your selfies. The app also goes big on filters, obviously, and offers a very wide range of them spanning across multiple categories like retro, winter, cartoon, and more. Users can also adjust colours to make some of them pop.
Snow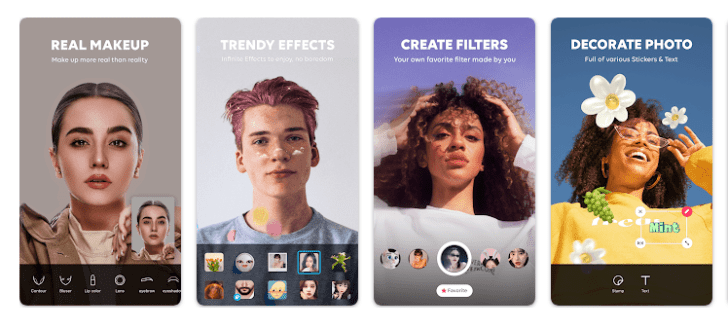 Snow's large catalogue of funky stickers make it a must-have for selfies (Image: Snow)Snow is another photo editing app focused on selfies. The app allows users to create and save custom beauty effects and use stylish AR makeup features. The coolest bit about the app is its huge catalogue of stickers and effects you can apply to your selfies for a funkier look. Like all other apps on this list, Snow is available on both iOS and Android.
YouCam Perfect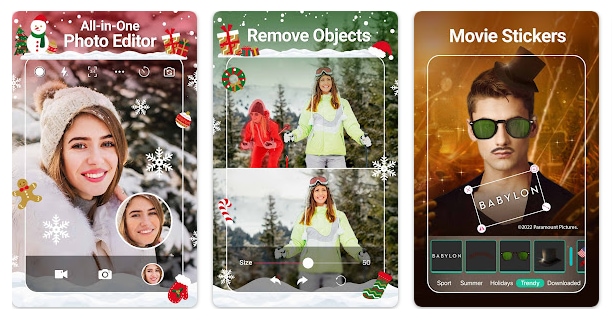 YouCam joins BeautyPlus in offering a one-tap selfie beautification feature (Image: YouCam)YouCam Perfect is a powerful face filter app for both iOS and Android devices. It joins BeautyPlus in offering a one-tap selfie beautification feature that smoothens skin, adjusts the smile, and more. The most unique feature of the app is Magic Brush which adds a burst of shapes and colours wherever you touch. You can further spice up your photos by adding frames to selfies. There's also a built-in object remover helping you neaten your portraits.
DeepSelfie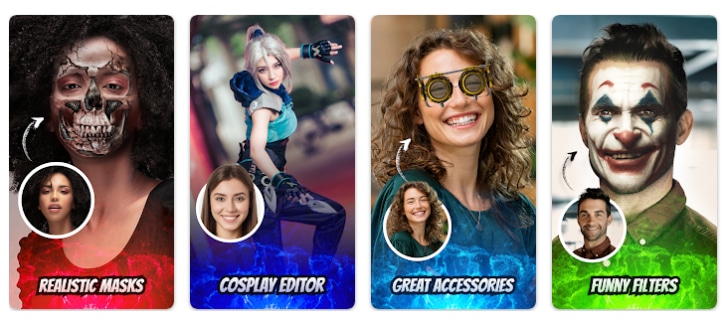 DeepSelfie's feature list includes 3D face filters, face swaps, makeup tools, and photo editor filters (Image: DeepSelfie)DeepSelfie provides a range of augmented reality effects that can be applied to selfies, video chat images, and photos to create humorous and entertaining content. Features include 3D face filters, face swaps, makeup tools, and photo editor filters. The app's live face mask function allows users to experiment with different masks and filters, such as funny masks, hero masks, and zombie filters, in real time. Additionally, the app offers a range of virtual accessories, including hats, glasses, beards, clothes, shoes, and watches, which can be added to selfies and photos for humorous results.
Source: https://indianexpress.com/article/technology/tech-news-technology/top-5-face-filter-apps-you-can-use-to-add-a-layer-of-fun-to-your-selfies-8359189/