May is Asian-Pacific American Heritage Month.  We are celebrating cultures and sharing our cultural heritage with children!
First, what is cultural heritage?
"Cultural heritage is the legacy of physical artifacts and intangible attributes of a group or society that are inherited from past generations, maintained in the present and bestowed for the benefit of future generations." – wikipedia
For me, my heritage culture is Chinese from Taiwan and China.  I like to introduce Chinese culture to children through the language, food, stories, music, and crafts.  Culture is life and people.  The comparison between the cultures help children to learn more about their own.  The similarities and differences between cultures lead them to learn about the world and respect each other.
Now, take out the globe and join me for a Chinese culture adventure!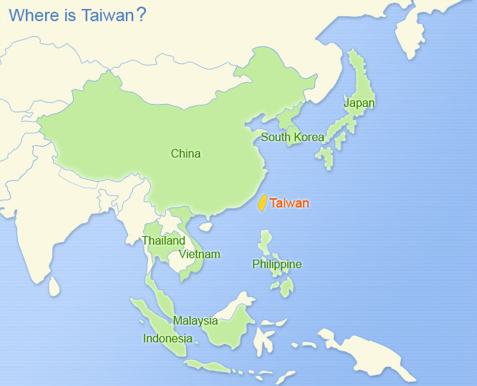 Location
Taiwan is where I grew up.  Where is Taiwan?  Taiwan is located in southeast Asia.  Do you see the yellow dot on the map above?  That is Taiwan also known as the Republic of China.  Across from Taiwan Strait is mainland China where my parents are from.
Culture
Taiwan is home to peoples of diverse cultures including the indigenous tribes, the Min Nan, and Hakka people who migrated from southern China hundreds of  years ago and the mainland Chinese who arrived in the 1940s.  Taiwan preserved the traditional Chinese culture during the Chinese Civil War and embraced the local customs and traditions.
Culture activity: Celebrate a Chinese festival and work on a theme craft project.
Languages
The official language in Taiwan is Mandarin Chinese.  The written form used is traditional Chinese characters.  The most heard dialects are Taiwanese and Hakka.  Many years ago when I was in elementary school I learned some Taiwanese from my neighbors because I wanted to play with them.  But now, you hardly hear anyone speak Taiwanese at school.  In order to keep Taiwanese and Hakka dialects alive schools in Taiwan have Heritage Language programs for children.
In mainland China, the official language is also Mandarin Chinese, also known as  普通话- pǔ tōng huà.  The written form is simplified characters.  There are eight major dialect groups in China.  I remember my grandmother spoke Sichuanese, a dialect used in Sichuan province.  My grandfather spoke Xiang dialect (Hunanese) which is spoken in Hunan province in China.  Many Chinese children grow up in a bilingual or multilingual environment because they are surrounded by different languages at home, in the community, and at school.
Culture activity: Next time when you visit a Chinese Dim Sum restaurant listen carefully and see if you can hear some Cantonese, a dialect spoken in Hong Kong and Guangdong province.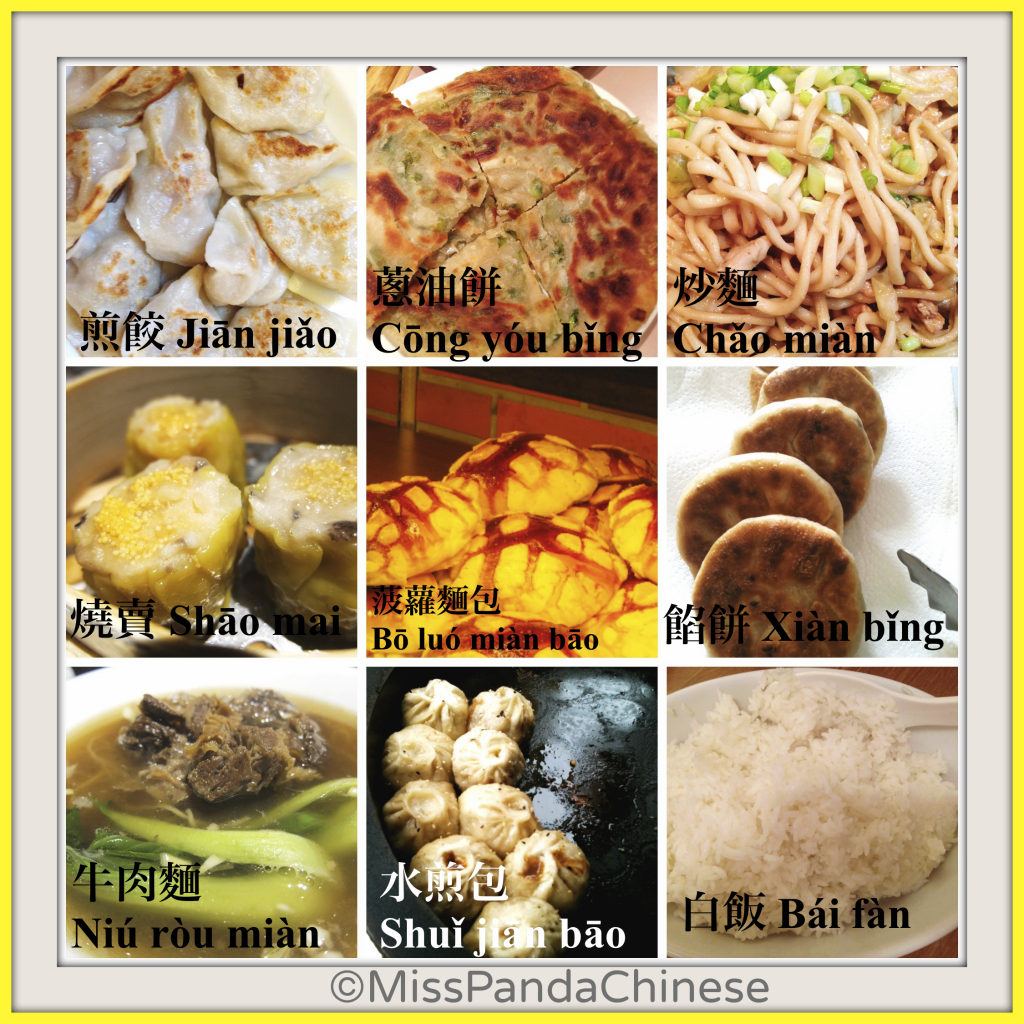 Food
Eating is very important for Chinese people and food is happiness and joy for Chinese culture.  That is why one of the most common greetings in Chinese is "Have you eaten yet?" – Nǐ chī fàn le ma? [你吃飯了嗎?/你吃饭了吗?]  Taiwanese cuisine is southern China style cooking with influence from all over mainland China.  In addition, with a  half-century of Japanese colonial rule in Taiwan the Japanese-style cooking techniques are also used in Taiwan.  Look at the pictures above.  Have you tried any of these dishes?
Culture activity:  International Food Matching Game – Printable in Chinese, Pinyin and English.  Click image below to download.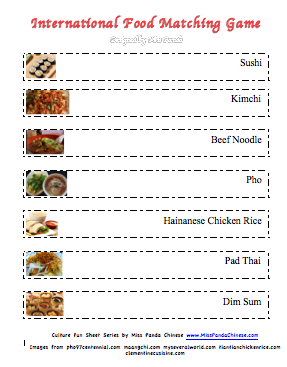 Books
We also celebrate family traditions and cultural experience with books by Chinese American writers, and illustrators from Taiwan and China.
Newbery Honor author and illustrator Grace Lin has many books touched on cultural heritage. What is the story behind her writing on cultural heritage?  Grace Lin said in an interview:
"I think back when I was a child, differences were less tolerated… My parents wanted us to blend; they wanted us to grow up really "American" and made the decision to speak to us in English in the house. So, my sisters and I grew up Americanized. There were always subtle differences, like Chinese food or red envelopes, but most of the time we glossed over them.
A lot of my books deal with my heritage because, in a way, I'm trying to find the culture I lost.  When I was younger, I was ashamed or sometimes even angry about being Asian. It's only now, after becoming an adult, that I realized there was something I lost, ignoring these parts of my heritage. There were a lot of things that we did, like eating ginger soup at a baby shower, that I never bothered to learn more about. So now, I research these kinds of things about my heritage. I find out why. I feel like these things are so important and nice for everyone to know about. That's why I do many books about Asian culture featuring Asian-American families."
Be proud of who you are and where you are from!  Share your cultural heritage with your child and celebrate the cultures in your family!
Now it's time for the Asian-Pacific American Heritage Month Blog Hop Link Up. How do you celebrate cultures? Music, crafts, stories, books, games, food, languages…?  Share your posts here with us!
In honor of Asian-Pacific American Heritage Month, Multicultural Kid Blogs is sponsoring a blog hop, and you are invited! We are celebrating the cultures and peoples of this diverse region by sharing our posts and asking other bloggers to do the same! Our hope is to create a wonderful resource for celebrating Asian-Pacific American Heritage Month with children. Be sure to visit the co-hosts of the blog hop (listed below) and share your own posts at the linky at the bottom!
You can find even more resources on this region in our Asia and Australia and Oceania boards on Pinterest.
Source: https://www.telegraph.co.uk/sport/2018/03/07/menstruation-last-great-taboo-womens-sport/