2017 saw a spike in tourism from China after the launch of new air route from Shanghai
Israel saw a record number of tourist visits in 2017, with some 3.6 million visitors generating around 20 billion shekels (around $5.7 billion) in revenue from incoming tourism last year.
The number of incoming tourists in 2017 eclipsed the previous high by some 700,000 visitors, according to figures released by the Ministry of Tourism on Tuesday.
The United States was the leading country of origin for incoming tourists to Israel, followed by Russia, France, Germany, and the United Kingdom. More than half of tourists to Israel were Christian, with 25 percent visiting as religious pilgrims.
Jerusalem — revered by the three monotheistic religions and the seat of a host of Christian, Jewish, and Muslim holy sites — was Israel's most-visited city followed by the country's metropolitan and commercial capital Tel Aviv, The Dead Sea, Tiberias, and Sea of Galilee.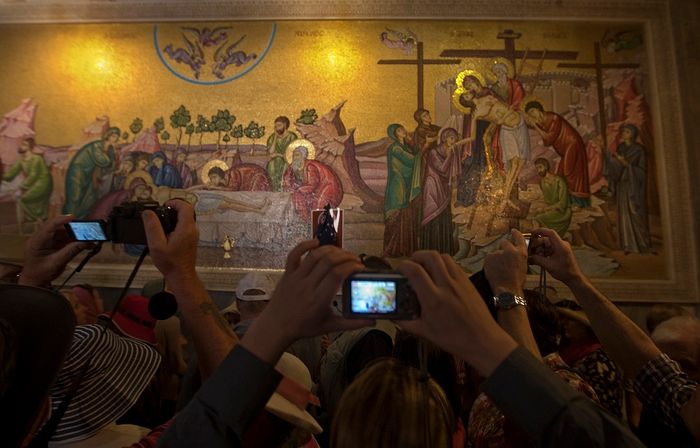 In this March 11, 2012 photo, tourists take pictures of a mosaic inside the Church of the Holy Sepulchre, traditionally believed by many to be the site of the crucifixion and burial of Jesus Christ, in Jerusalem's Old City.
AP Photo/Sebastian Scheiner
Tourism Minister Yariv Levin said that the all-time record in tourism was unsurprising, and part of a "clear policy" of his ministry which has brought Israel "an unprecedented record in incoming tourism."
"The number of tourists visiting Israel increased by 700,000, setting a new record for incoming tourism to Israel and adding NIS 20 billion to the economy," Levin said in a statement.
The tourism ministry highlighted new 2017 marketing campaigns, collaboration with online travel agents Expedia and TripAdvisor, and its foray into Polish and Romanian markets as contributing to the increase.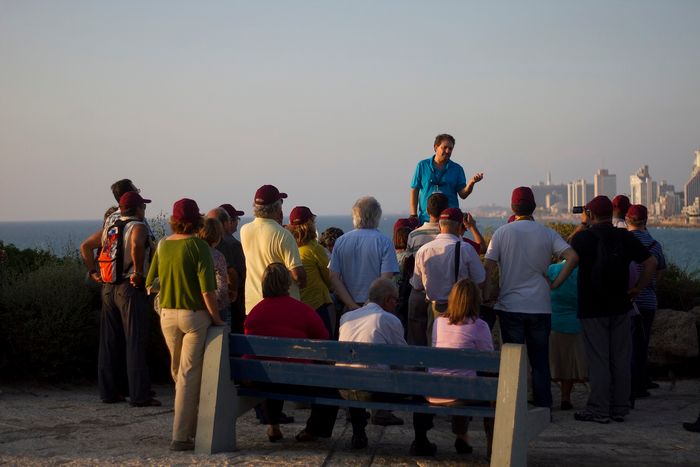 In this picture taken on Friday, Aug. 10, 2012 , tourists from Portugal listen to their guide in Jaffa , a mixed Jewish and Arab part of Tel Aviv, Israel.
AP Photo/Ariel Schalit
Also supporting the growth was the opening of 18 new air routes into Tel Aviv's Ben Gurion Airport in 2017.
A new route between Shanghai and Israel launched in September contributed to a 46 percent increase from 2016 in tourism from China, and a 135 percent increase from 2015.
According to the ministry's data, visitors enjoyed their stays in Israel with 91 percent ranking their trips as "very good or excellent."
The end-of-year-results are on par with predictions by the United Nations World Tourism Organization (UNWTO) from August, which put Israel and the West Bank in the top ten tourist destinations for the first part of 2017.